For the June/July issue of Working Mother magazine, Tremendousness was asked to design and illustrate a feature spread to show the multistep process by which companies recruit, hire, retain, prepare, and promote multicultural women. The magazines's Creative Director Eric Siry envisioned the process as a "Rube Goldbergian" machine.
Awesome! No pressure there!
A quick Google image search of that term shows the challenge I was up against. How does one incorporate people into a weird and impossible machine? I definitely needed a concept that didn't feel like women being fed through a production line on conveyor belts. It had to feel both fun and professional.
For inspiration beyond Goldberg, I drew upon Roy Doty's holiday cards. And I always dig the way Dan Zettwoch approaches process graphics.
So, I decided to make it feel like a bit of a Willy Wonka adventure for our main character. The carrot is the draw, and we follow a her through her journey as she swings in, drops down, has the red carpet rolled out for her. That said, she's not just along for the ride—she's an active participant as well.
Here's a look at some early sketches.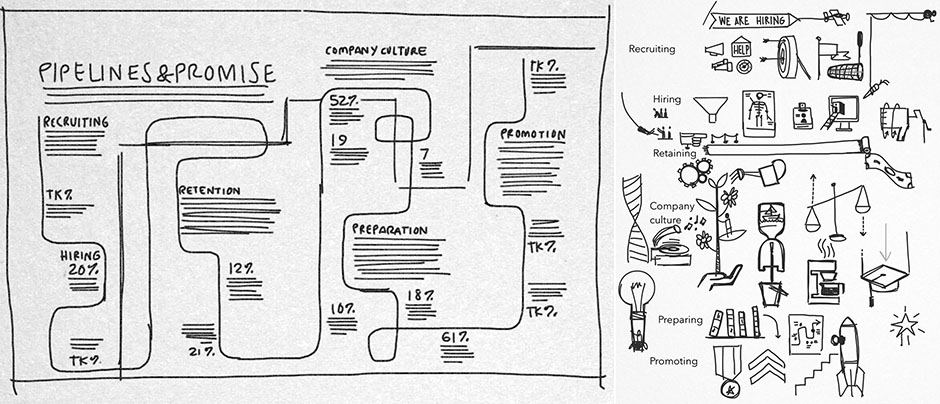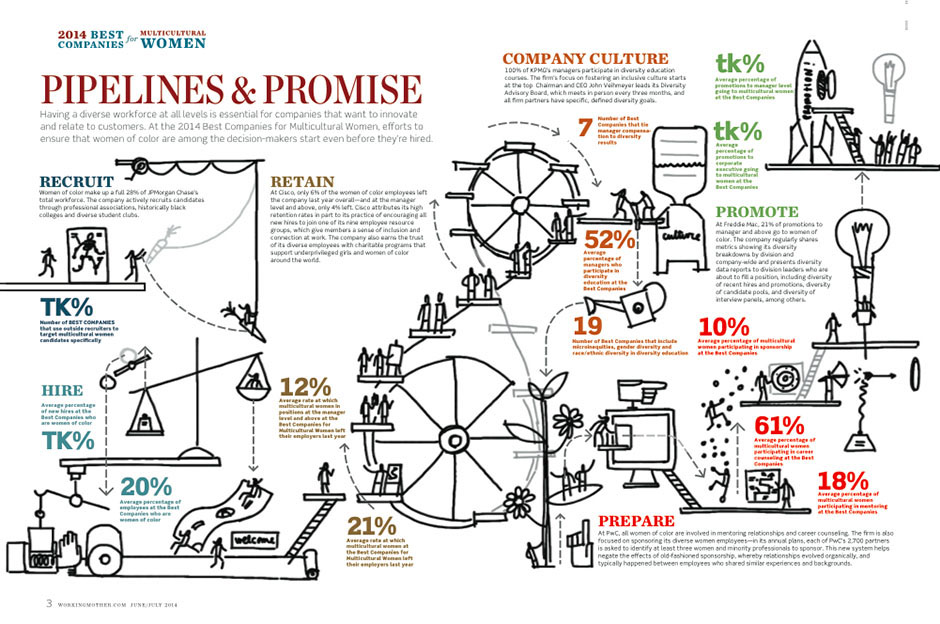 Juggling text and image is always a challenge; I kept the background white so the reader wasn't overwhelmed and the page (hopefully) feels interesting without being too busy or complicated to follow. Large numbered banners help guide the reader through the purposefully complex winding adventure.
It was a really fun project that takes some relatively dry (but important) HR information and puts it into a narrative someone might be more likely to read. Editorial is the kind of work I most enjoy and I'm pretty proud of this.
But if you think this is cool, W. Scott Matthew's new Eating Well magazine feature will knock your socks off! Check back on Monday to see it.