When I was a college junior I landed a summer design internship at Maritz. That's a company here in St. Louis that back then boasted they had the largest art department in the world—behind only Walt Disney and Hallmark Cards. That's not the case today, but in those days it was overflowing with uber-talented designers and illustrators who were given free rein to create the coolest four-color, die-cut, embossed travel incentive materials possible.
Working there was eye-opening. It was the first time I'd ever worked around professional creatives, so I finally got a glimpse of the real world. What I learned is that this "real world" was nothing like the picture my college art professor had painted.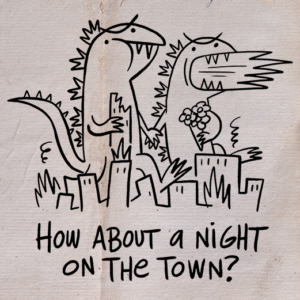 Quick aside: for a college art class, we were asked to design a greeting card. I drew a male and female Godzilla storming through a city with the caption, "For Valentine's Day, how about a night on the town?". Not bad, I thought (a recreation of this masterpiece can be seen at right). But the professor just looked at the drawing with the dead-eyed stare of a chicken. "What is that?", she asked. Apparently, she had never heard of Godzilla. Thinking about this now, maybe she wasn't the ideal person to help prepare me for a creative career.
Anyway, one of the big takeaways I got from the internship was that all of my art didn't have to be created 100% from scratch. Art directors often developed layouts and illustrations using reference photos—and actually traced them (this is before the internet). They sought logo inspiration from design annuals then worked to make the ideas their own (most of the time). And they weren't always the stiff professionals my teacher would've had me believe (there were a lot of Nerf basketball hoops in the office).
I learned as much that summer as I did in my four (okay… five) years of higher education. It was invaluable in helping me to see where I needed to improve and how I might apply and expand my creative skills in the real world. Today, one of my favorite things to do is hire interns and help to pay it forward.
At Tremendousness, we very much value our paid internship program and have had 11 interns since we formed in 2013. A few more will be joining us this summer, and we love it because we see it as a "win-win" opportunity.
Our interns gain valuable professional experience by having the chance to apply their skills on real projects. They start to understand the trade-offs and possibilities that are necessary when dealing with exacting clients. They work alongside more experienced creatives from whom they can learn and emulate. They also start forming a broader professional and social network that can last throughout their careers.
For us, it's a chance to bring in young, enthusiastic designers and illustrators who almost always bring new energy to the team and a fresh perspective to projects. Our interns don't get coffees, we get them involved in collaboration—on everything. This means discovery, ideation, concepting, sketching, storyboarding, VO and music selections, review calls, production, and even final illustration and animation work. In doing so, they get valuable experience outside the classroom and we get to see if they're a good match for our full-time, in-house needs.
Like I said, it's a win-win.
---
Image: Illustrations by W. Scott Matthews / Tremendousness.