---
Bonus link: Adobe Flash Player EOL General Information Page | "As previously announced in July 2017, Adobe will stop distributing and updating Flash Player after December 31, 2020 ("EOL Date"). We made this announcement in collaboration with several of our technology partners – including Apple, Facebook, Google, Microsoft and Mozilla – which issued complementary announcements with more technical detail on what the Flash Player EOL will mean for developers, enterprises, and consumers using their specific OS environments or browsers. " Related: Adobe Flash Cut-Off Will Kill Millions Of Websites & Adobe wants users to uninstall Flash Player by the end of the year
A Flash memory
Among the mix of serious and silly stories this week, this bonus link stood out to me not because of its critical importance to life, justice, or sanity, but because it brought back memories. I searched the web for snippets of those memories but couldn't find any.
Flash used to be an important and controversial part of the web. There's a pretty fascinating history that's just touched upon on the Wikipedia page. Its precursor was invented by FutureWave Software in the early 1990s. They offered to sell to Adobe in 1995 but were rebuffed. Acquired by Macromedia a year later, the interactive motion technology came to saturate the web and Adobe eventually acquired Macromedia in 2005. Some things take time.
By 2010, Apple had restricted the use of Flash on iOS due to performance issues (its security flaws didn't help). This helped kill the platform as mobile grew. The creation and maintenance of Flash sites was always a resource-heavy, and as the web matured HTML5 and other technologies enabled similar effects with better standards, upkeep, and accessibility. Flash was used less and less. Adobe announced its planned end-of-life back in 2017.
This is where the memory comes in. I was part of XPLANE from 1996–2004, and from 2007–to 2012, although was acquired by Dachis Group in 2010 and spun back out a couple years later. In the early days we embraced Flash. Our team made interactive infographics, learning and training tools, and web sites using Flash. In 2000, we (well, John Marstall, in particular, if I remember correctly) created an interactive graphic called "Flash vs GIF" and Tom Borgman (I think) versioned out a companion static infographic. The project detailed how the two technologies handled online motion graphics differently, and when it would be best to use one instead of the other. It was the perfect use of Flash to explain Flash, and to teach people about usability and technology. I loved it.
For a couple years the interactive team, which also included Reggie Tidwell and Ben Kaplan, did a lot of cool things that have been lost to the march of technology and time. In addition to a wildly ambitious "The E-commerce Ecosystem" Flash project, based on a magazine spread XPLANE had done for Business 2.0, I particularly remember "Flash vs GIF". It was awesome to me, enlightening for others, got a lot of traction in early blogs, and now is nowhere to be found.
Flash's end-of-life is in six months (December 31, 2020) so it will be gone soon, too. It's for that reason I present the static "Flash vs GIF" infographic here—giving full credit to XPLANE for its creation and copyright—just so it isn't lost forever. All I had was an old raster file so it's not the best quality… in fact, it was a GIF :-0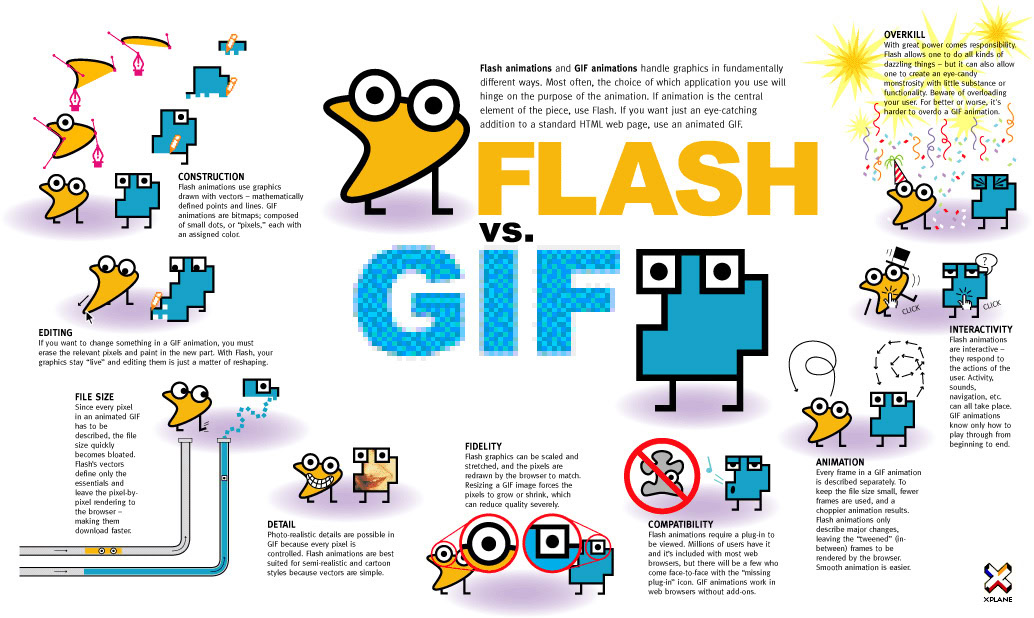 Hello and cheers to John, Reggie, Ben, and Tom. Hope all of you are doing better than Flash is.
---
Images: Juneteenth flag via Print magazine, link #7. Flash vs GIF infographic by XPLANE.