Last week we looked at some of the many things we do or need to think about during the Production phase of a visual storytelling project. This is the last step in our core visual storytelling creative process. That process began with Discovery (for example, an in-person session or an online meeting), moved into the Concept phase, then the Blueprint phase, and ultimately closes out with this Production phase. Let's jump back in…
Audio
For videos, once the storyboard is finalized you can usually go ahead and record the voice-over, typically referred to as the VO. The client will need to weigh in on a variety of important features of the voice, including age, gender, accent, tone, and more. Sometimes they leave it all up to our expertise. The script needs put into a template so each line or chunk of story is numbered and can easily be called out during the recording session. This recording session should be recorded, engineered, and edited by an audio professional, and voiced by reliable voice talent. It's pretty hard to get pro-quality sound in a conference room or house.
The music soundtrack is another audio component to consider. Even at low volume, background music really helps animated video "flow". It won't make a bad animations good, but it can make all animations better. We almost always use affordable royalty-free stock music because custom scores typically are too expensive for these kinds of communication. For feature films and television commercials, sure, an original score is necessary. For a three-minute "how it works" video, probably not.
Here is Brian working on an animation in Adobe After Effects. He makes sure to stay caffeinated and hydrated.
Animation
Once all the scenes for an animated video have been illustrated and approved, that artwork needs broken up in specific ways so it can be reassembled and brought to life in Adobe After Effects, the powerful animation software we typically use. Animators figure out how to employ motion, pacing, transitions, and even physics to help tell the story narrated in the VO, shown in the artwork, and finally brought to life via animation.
As we've mentioned several times, client approval is key. Going back now and changing the script or the storyboard can have a big impact on the project, throwing off both the deadline and budget as new recording sessions get scheduled and artwork gets redrawn and animation gets re-done. There will always be edits throughout the process—it's rare for something to be 100% locked down and unchanged. But big changes are big hurdles (and little ones can be too!).
Feedback
Like I said earlier, our entire process is iterative and collaborative with lots of client involvement. Sure, it gets a little less collaborative in the Production phase, but that's because now that we've figured out the story together, our specialists must get to building it out both artistically and technically. That takes a lot of heads-down work. Still, the feedback loop continues.
For example, sometimes certain aspects of the illustration are still getting worked out. Maybe the style we're going with shows what people look like when they're seen small in a landscape, but not what they look like when they're a "talking head" in a video. So we need to test draw a couple people and share with the client before we draw all of the people. We also like to send a 30-second WIP video clip, so the client can see how the animation is coming to life. The Production phase is more about check-ins.
QA
Whatever the deliverable, it needs to go through a quality assurance process once it's "done". This involves both Creative Directors and Project Managers and requires making sure the piece still meets the goals of the project, proofreading the words; checking the quality, color, consistency, etc. of the artwork; checking alignment in design and layout; finessing type, making sure names are spelled correctly, etc.
For videos the pacing and timing is a big deal. We use a service called Wipster so both ourselves and our clients can add inline, timestamp-specific feedback on top of the video. For infographics a Creative Director might finesse the overall spacing his- or herself, or they may have a conversation with the Designer and Illustrator. Minor things can be addressed with simple sticky notes on a PDF or comments in a PPT. For all projects it's your last chance to make sure all the facts are right, and everything is on-brand—although this certainly should have been done much earlier in the process!
Revisions
You will end up making revisions. The Creative Director will suggest improvements. The QA person will find things that need fixed. The client will want to change something. We use a simple v1, v2, v3, etc., often along with dates and initials, to differentiate various versions of a file. We also try not to throw away older versions just in case something needs changed back.
When client changes at this late stage are big enough, they may merit a change order depending on the agreement you're working under. This just means that because the change is big and unexpected, or the client didn't show the piece to their boss until now and they have a different idea about what was needed, that more money is owed due to work having to be done twice, or more.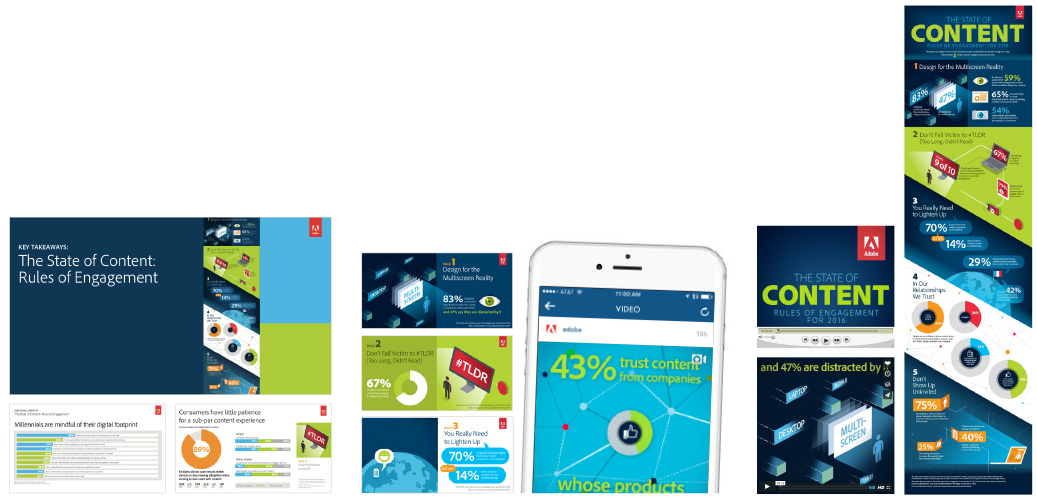 Our "The State of Content" project for Adobe ended up as a report, a set of social media "Infobits", animated videos, and a long-form infographic. Visual and narrative elements from the main publication were repurposed for different deliverables and different uses.
Derivatives
Sometimes, you're done, but not really done. We often create multiple deliverables that tell the same story in different ways. The narrative and artwork created for an animated video might get reworked and reassembled into a one-pager infographic or a presentation. Or vice versa. So there may be a new Concept phase that leverages existing story and visuals for a whole new deliverable, which itself will have a distinct Production phase.
Sometimes it's as simple as creating an asset library that breaks all the artwork into individual pieces so it can be used in different contexts. Many of our cohesive, flowing infographics have been broken down into component pieces so the visuals can be used in PowerPoints. We specialize in helping clients to engage a variety of audiences across multiple mediums, channels, formats, and devices. When we re-purpose artwork and narrative across various mediums, customers can connect to their audiences across multiple screens and social channels.
Delivery
After all rounds of feedback have been completed the client gets their final files. Sometimes they need the source files too. After delivery we archive everything so if a year later the client wants to make an update, we can just grab the file and go. Of course, we always want to know what the experience was like for our customers. We usually have a pretty good idea because our process is so collaborative, but we also send out a very short and simple survey at the end of a project—and we keep checking in to see how the piece is working for them, and what the audience reaction is.
It's true that the cost of a high-quality visual story can get up there, but so can the ROI. Why? Because delivering just the facts is not enough—no matter how rational and compelling they may seem. You need to draw people in and make them care. You need to tell a real story—one that captivates, educates, and activates your audience. Tremendousness designs great stories by combining the power of visual thinking with the wonder of a compelling narrative. The result: stories that have the power to change minds and drive action. The Production phase of this journey is the icing on the cake.
---
Check out other blogs from this series:
Who takes part in Discovery?
How does Production work? (Part 1) & Part 2
---
This post's feature art was adapted from a project we did with Alain de Botton for The School of Life.