I've spent countless "vacations" racing my bike and often have returned to work exhausted from what I'd refer to as "the hardest vacation ever." A few weekends ago I traveled to Tahoe for Desgn.it 2015 and basically camped out in a rustic living room hunched over a laptop "racing" to finish some key deliverables for a couple of worthy non-profit organizations.
When I left I posted a brief write-up that summed up how little I knew about what to expect from the weekend. Truth be told, I felt incredibly confident in my skills and experience. I suspected I would be more senior that many of the participants. In age, sure. But in experience and capabilities–not so much. Which was totally OK with me. I came here to learn. To contribute whatever I could bring, of course, but I was really looking forward to working with a completely new-to-me set of designers. I love seeing peoples' processes, gaining work, technology and life hacks (which is top of mind from our recent SESSION.IS get-together). I can be more candid in retrospect about how curious, nervous, and excited I was–maybe even a little bit cocky.
Today I sit here and am extremely humbled. I feel incredibly fortunate to have been given the opportunity to have been part of such a cool thing. I was in a room, a house, a small lodge with a group of talented, passionate, smart designers, entrepreneurs, developers, writers, photographers. Who else gives up a weekend to hang out and cram what could arguably take weeks of back and forth work to accomplish? It was accelerated decision-making, developing, writing, drawing, planning, architecting, storyboarding, going long into the night and quickly back up in the morning scheming, interviewing and coding over breakfast. Two marathon days that saw incredible strides for two worthy organizations that was manifested in the form of style guides, campaign-design, a micro-site, event collateral, infographics, presentation templates stocked with content, website architecture and page design, an animated video–storyboarded, illustrated, voiced-over and music selected and, yeah, you get the picture.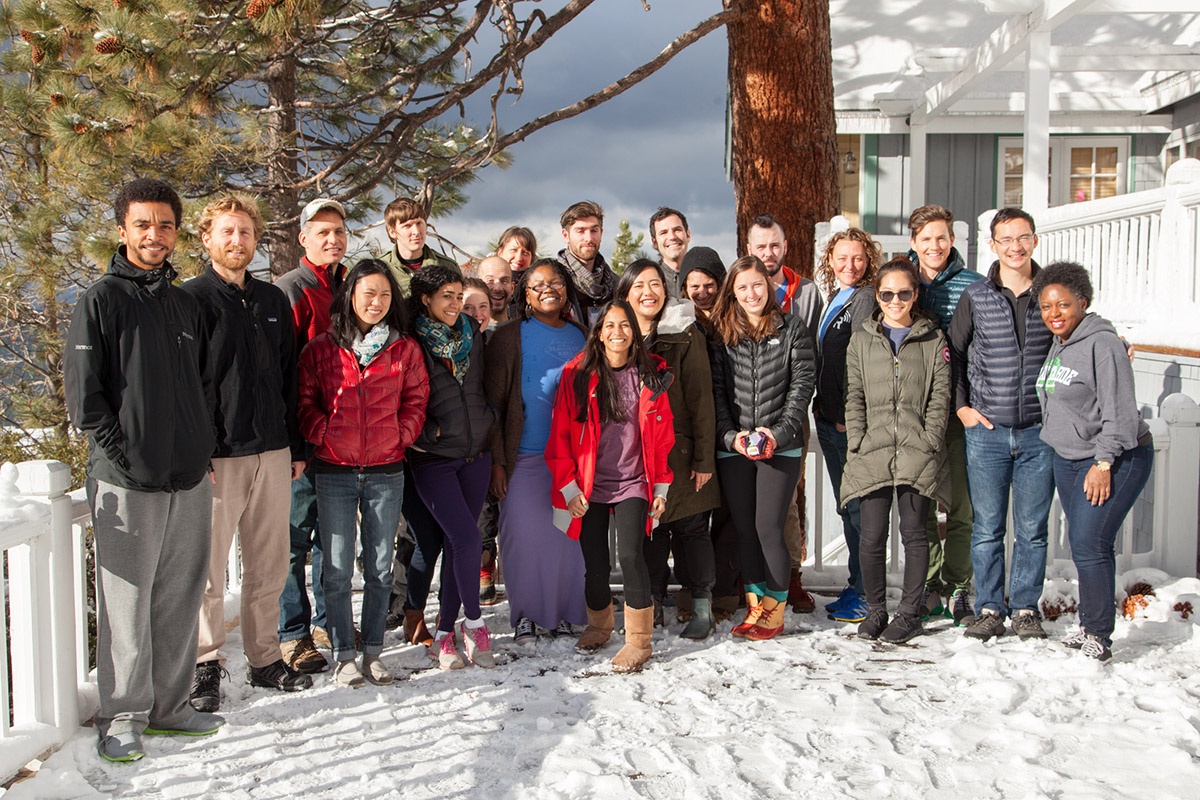 On Saturday night we presented, to each other and our clients. These were remarkably thought-out presentations that belied the ridiculously accelerated time-frame within which they were completed. Shit got real. Real real. And every single person on my team stepped up to bat and made big plays. We truly were a team–and despite the general stereotype designers get–not a single ego presented themselves as a hurdle to be overcome. So, that's the touchy-feely part. You still with me?
DAY 1
Day one started with the briefest of intros–it was more an attitude of "we've got a lot to do, so glad you're all here, but let's get rolling… we'll figure out who everybody is along the way." And we quickly convened within our smaller team and met with the organization we were working with. There were two organizations we worked with: a group called Black Girls Code, a not-for-profit that provides technology education to African-American girls ages 7–17, and Rubicon Programs, a group working to break the cycle of poverty in the East Bay.
We moved quickly into interviews, questions, goals, loose plans, more questions, revising plans, delegating tasks, and, generally rocking and rolling. We quickly surmised that the pre-session plan of deliverables for our client would need some adjustment based on what we felt we could actually do well in our given time-frame. There's a blind leap of faith required on the client's part to go with the flow. They're on a guided tour of some heavy design whitewater. We have to retain that trust and part of that was editing deliverables to get the appropriate scope.
After our discovery sessions, and while we brainstormed and planned, the clients were escorted through helpful workshops that built their skills and were an amazing supplement to the tangible design deliverables they were receiving out of this engagement. It was a nice benefit that they didn't have time to hover over us while we worked. The creative process can be ugly and confusing–and we're sort of like surgeons not wanting someone to be awake during invasive surgery. Some ugly stuff gets tossed around and it's better if they're not present for all the mess.
By 8 p.m., somewhere after dinner on Friday–the first night–we had a solid direction. But we were then faced with the delicate yet critical task of determining an aesthetic approach. We had been supplied with existing brand materials and there was no small discussion around staying within that or expanding new stylistic direction to better support our concept(s) and the client's new, proposed direction. Navigating around designers' sensitivity and strengths turned out to be relatively easy with this group. No one clung too hard to or lobbied unnecessarily for their own work, style, or even personal strengths. We were game. I pushed outside of my own comfort zone and I'm sure others did, as well. And our clients dug it, too. The stylistic approach and general direction of multiple pieces of collateral were the outcome of those first 12+ hours. We called it a day at 10:30 p.m.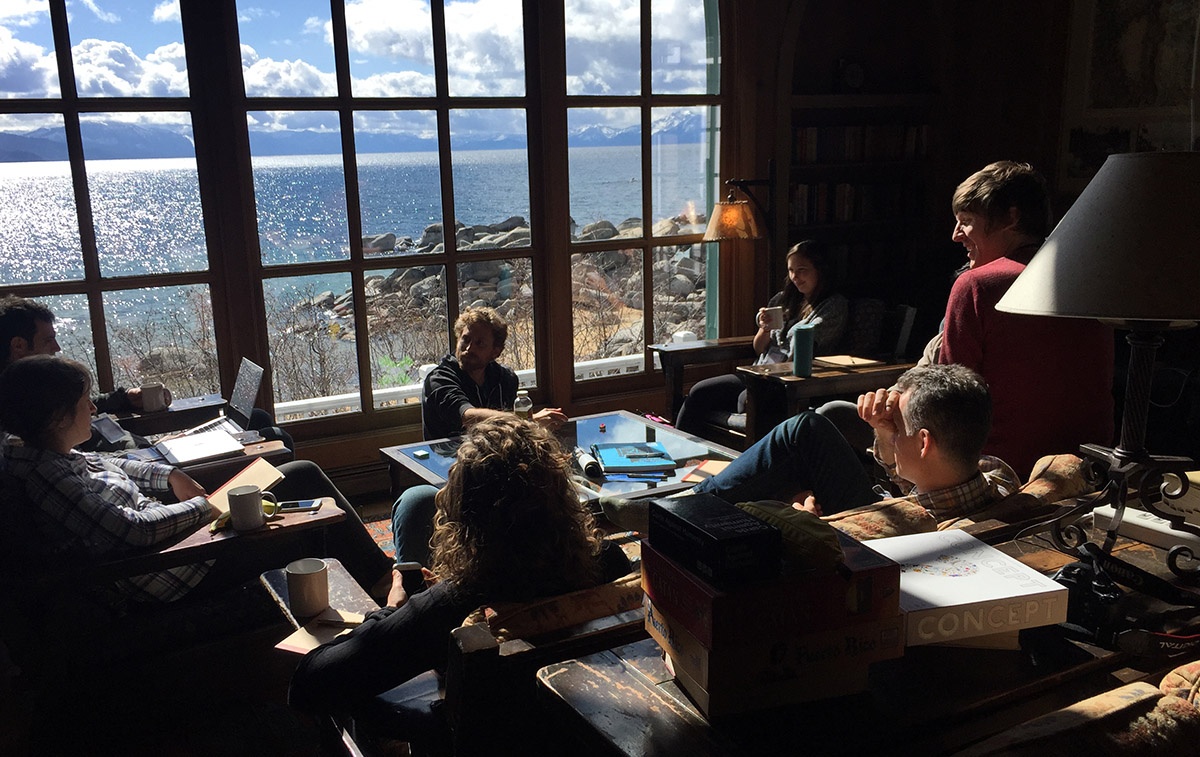 DAY 2
Day two was largely task-oriented. For our team, that meant (among other things) finding reference for and drawing 12 specific, simple, everyday objects–multiple times. We delegated that amongst 4-5 people (I was one of them). Two guys designed and coded the microsite. Others created poster designs, info cards, and writing. Oh, and the writing. This item is often overlooking and yet is more than critical in establishing a compelling narrative. I did not do the writing. I did a few illustrations and after their completion I sort of floated around trying to figure out how to feel useful. People were jamming. Then, with the help of a writer, I took what we had created and cobbled together a one-page informational poster that tied the story together in a printable format.
As dinner was served, we were wrapping up our deliverables and I had my first beer of the weekend. Exhaustion made its long-awaited introduction. But as the presentations started the adrenaline built up from the previous 36 hours found a way to pump again. Both teams displayed loads of talent in their craft and a deft use of tools in the work they shared. I won't bore you again with too much gushing, but the level of talent and chemistry of the teams is not lost on me.
After all work was shared and a few tears (of joy) were shed, we milled around, played games, cheered, hugged. And then it was over. I had my most restless night of sleep after that; it was like my brain was trying to imprint this experience by sheer repetitive rehashing of highlights, phrases-turned-inside-jokes: grilled cheese order forms, Grateful Dead ticket-purchasing-strategy-in-action, cookies, sand, snow, astropad, creepy cloud, snowmen (and their prototypes), mugs of wine, the creakiest bed, heaviest comforter, hugest fireplace, best view, and guided meditation.
And with that, I will now meditate and try and turn my brain off. Until tomorrow, when I'll be back at work. Exhausted from one of the toughest, but most rewarding, vacations.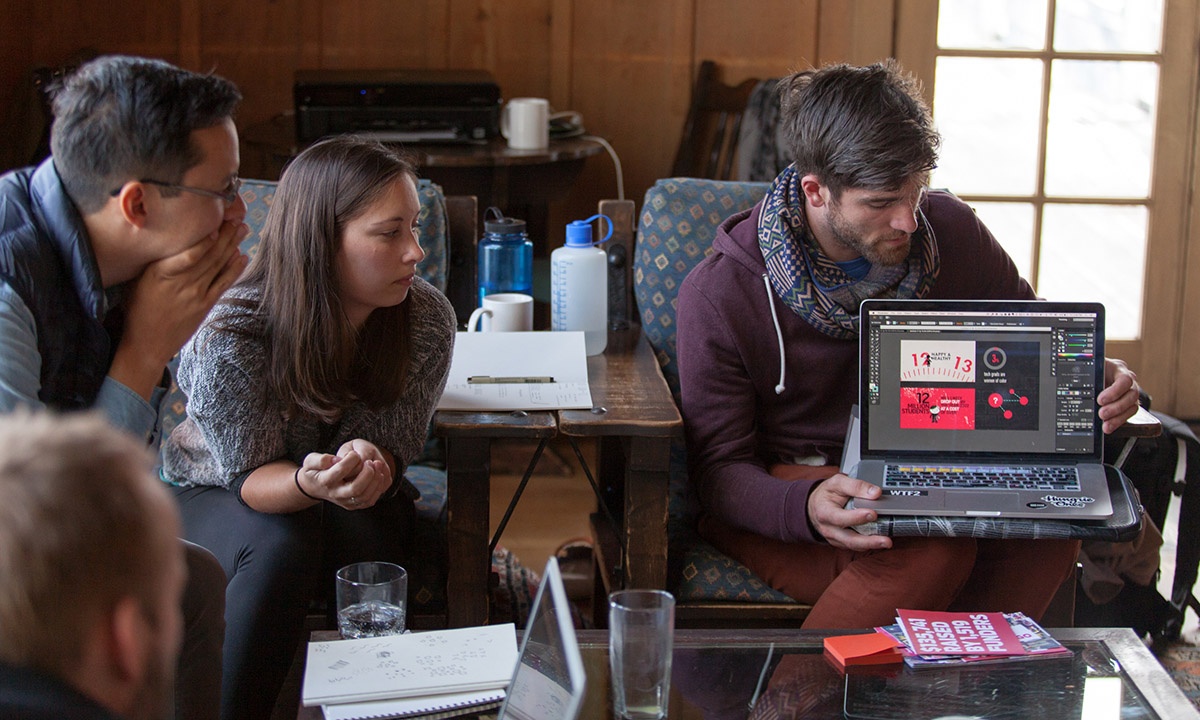 Thank you, Elefint, et al.